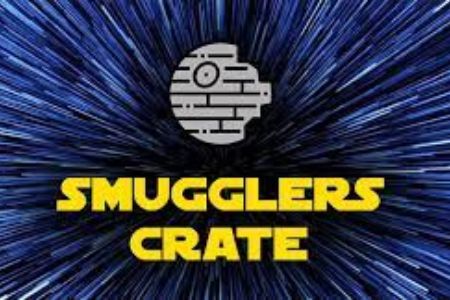 Smugglers Crate
PROMO: Get 10% off your 1st box with code: SKYWALKER
Starting from: £16.95
Date added: 5th March 2022
Highlights
Figures – We work with official retailers like Funko and Hasbro to get you figures of your favourite characters!
Lifestyle – Bags, hats, footwear and more! Show off your love of Star Wars in your daily life
Artwork – We source beautiful Star Wars artwork ranging from prints and posters
Memorabilia – We look hard and wide to find unique memorabilia from the movies and lore
Accessories & More – Keychains, mugs, lanyards and more… we find the coolest accessories for you to show off your love of Star Wars to the world!
Get an epic monthly shipment from a galaxy far far away with Smugglers Crate! Using our extensive Star Wars knowledge and relationships with exclusive suppliers, we aim to provide you with a unique monthly experience through our boxes which are curated specifically for Star Wars fans. No Avengers. No Star Trek. 
Every month, you'll get a crate of 5+ items from your favourite Star Wars films, TV shows and comics sent straight to your door! 
Your 1st box ships within 1-3 days. All subsequent boxes ship between the 14th and 18th of each month. 
For our Smugglers Crate subscriptions, your card is charged on the day you purchase your first box. If you're on the monthly plan, you will be billed again on the 1st of each following month until you cancel. If you subscribe to the 3 month pre-pay on you will billed 3 months later on the 1st of that month. 
Similar Items